Some Businesses & Solopreneurs I Love
As a Creative and Solopreneur, I truly Appreciate purchasing from fellow Creatives, small businesses and solopreneurs dooin' their thang. Be it the Artisan, Mom & Pop biz or small businesses that are Mindful of their blueprint, these folks are swimmin' out there with the big boys and it never hurts to send some Love their way in the form of patronizing and shouting them out to the rafters!
So without further ado, I give you a list of some of the peeps and small businesses I Love in no particular order…
Scoria Yoga Mat
My New Scoria Yoga Mat—Man oh MAN do I Love this mat!! I have been a practitioner of Yoga for 20+ years so you can imagine that I've owned plenty of mats. And I've dug quite a few of them. But I can say hands down this is my absolute fave. Two years ago was my first venture into cork mats, prior to that I was using rubber mats but the smell was unbearable, even after airing them out. But I breathed and beared it and eventually the rubber smell went away.
I like my mats to have extra padding so my previous cork mat was too thin and I used a mat beneath it. And in the beginning I was sliding all over the place so I used the rubber side until I couldn't as it had become pretty worn. Flipped it over and I did eventually get used to the cork side but one day I was like, 'hmm, time for a new mat, think I'll get another cork one!'
And then it happened…a beauty of a yoga mat came sliding down my IG feed and it was LOVE! Went to the site, the reviews were raving so I took some swipes with more confidence and then ay yi yi, I saw her and with extra padding too!!! OMG! 
And it feels FANTASTIC–no slipping at all and the amount of thickness is just perfect for my Yin style vinyasa! Plus it's just bee-yoot-tee-full! I can't rave enough about this mat! PLUS, they give back–their goal is to make an impact every time a customer makes a purchase. So if you're into Yoga, Meditation and Relaxation, make sure you check out Scoria
Merchant Spice Company
My go-to for delectable spice blends, this small business is STELLAR, I am addicted to their blends!! The customer service is top notch, kudos to you Sharon. One thing I Love about small businesses is the personal touch, I mean don't you get excited when an invoice has a handwritten note on it?? These small touches separate them from the rest!
They have a very large catalog with a broad selection of tastes from around the world. And what I also dig is the spice blends I buy are with no salt. Pre-pandemic, I was hooked on Whole Foods' Peruvian spice blend, stocking up whenever I could. As time went on, it got harder to find and once the pandemic hit, my trips to find it ceased.
But that spice blend was part of the some of my home menu's greatest hits so I had to have it. After much searching I came across Merchant Spice Company. Ya know how it is when you have a beloved anything and it's time to try something new and foreign–the dread, the trepidation, the oh-boy-ness-am-I-gonna-like-this?
Once I met them I never looked back. I am now addicted to quite a few of their blends! Fresh, flavorful, fun and FABULOUS! Be sure to check them out!
Merchant Spice Company also has a presence on Etsy and Amazon.
Celeste Hastings, LMT, etc.
Now on to the solopreneurs–I have been going to this marvel for massage since the 90's! Guess I really have been Happy eh? Ya darn skip-pay! LOVE HER LOVE HER LOVE HER. She is a Master Healer and then some. Celeste also offers bio-magnet therapy which I soooooo recommend, has helped my hips a great deal–I have shown up on her doorstep in all kinds of hurt and she helped me feel soooooo much better when I left! Celeste doesn't really have a social platform in which to reach her so it's best to shoot me an email if you want to connect with her. Please have her name in the subject line, serious inquiries only.
Tracey Byer, Acupuncturist, etc.
My other "Please Fix Me Up" gal, Tracey has been mending me up for the past what, 10 years? She has been a LIFE SAVER for soooooo many reasons and I LOVEHERLOVEHER LOVE HER! 

I first met Tracey when I ended up at Olo Acupuncture oh geez, I don't even remember what the problem was–Ohhh, it was for a SEVERE case of sciatica! Now as a former dancer, pain was not a new phenomenon–dancers are always in some phase of pain and/or discomfort, it comes with the profession. But not being able to sit, lie down or stand (that about covers it eh?) without wanting to pull your face off was a brand new funk for me. It had been decades since I had been in that kind of pain! I will be forever Grateful to my gal for patching me up.
I talk to Tracey at length on an old blog of mine. And check Tracey out on her website and learn of her other Healing Gifts and offerings, you'll be so glad you did! And tell her I sent cha!
Olo Acupuncture, NYC
What an incredible space and resource! I am so glad I saw a post from a Facebook friend about how going to Olo Acupuncture saved his back. It just so happened I saw that post as I was trying to figure out what to do about my then sciatica. What that showed and reminded me was that our Thoughts have incredible POWER. Looking for the Solution calmly while my back screamed and WAMMO the Solution was a scroll away!
They have recently expanded their space and now offer Community Room Acupuncture which is an affordable option and Private Room Acupuncture for those who want a private space and more one-on-one attention from the practitioner. Plus they offer House Calls!
Do check them out if you're in the area and a special shout out to Yuka, the co-founder because she rocks! Read how the seed of Olo was planted.
Bio Thermales Hot Springs in Aguas Zarcas, Costa Rica
We don't have enough time for me to go on and on about this place. And it's not just the place and the fauna, flora and hot springs that's magical but the folks behind it–Kathy and Bernie are just special peeps. I love and adore these two. Absolutely. 
If you are looking for something off the beaten path in the rainforest with casitas (small houses) and that goes a lonnnnnggggg way in being cared for, well my dears THIS is the place. And there's a truck load of folk that have experienced the magic and rave as I do.
I have been pining to return and crying the blues because our trip was canceled due to the start of the pandemic in 2020 but as of this writing, I'll be going soon I CANT WAIT but I'm gonna hafta cause it ain't time yet!!!!
Bio Thermales has a website but to book go check them out on TripAdvisor where there are TONS of reviews singin' their praises!
San Jules, Unique Art Creations
Ooooooo my goodness, I just discovered this husband and wife team this past May at the Dance Africa Bazaar! THEIR CLOTHES ARE OFF THE CHAIN. And sooo ME. Bohemian, COLORFUL, unique and COMFORTABLE. They are mine and my Hermanocito's new best friends! We are obsessed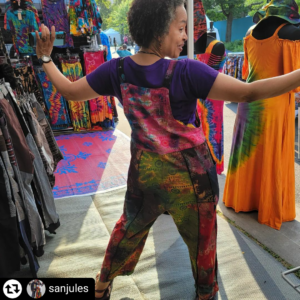 Be sure to check out this awesome fashion duo! (not me and my Hermanocito, but San Jules!)
P & K Market, Jersey City
If you live in the area you may be very familiar with this place. I have been shopping here for so long that the owners' children are grown ass men with their own children! I just love this family business. The 'boys' are like two bad little brothers cause they like to tease and pick at me lol. So does their dad for that matter!
Seriously tho' they are top notch in what they do and what they offer. And they really know their customers! Once my ex was shopping there and he had picked up an item. The mom ran out from behind the counter telling him, 'no no, she doesn't buy that, she buys this' and pulled out the correct thing. How the heck she knew who he was I'm not too sure and she saved him from imminent disaster!
On another occasion, my current dude went there and when he got to the counter one of the boys said, 'is that for…Jacquie?' I couldn't believe it! It was the first time my dude had been there and they didn't know he was my dude!
Once, I got to the counter knowing I forgotten something. And I said as much. David tells me exactly which herb I was missing as I always buy 4 herbs at a time. Now that's paying attention to detail!
And they're so cool, if there's an item I want to suggest to them to carry, they will look into it and if the price point is good they will carry it.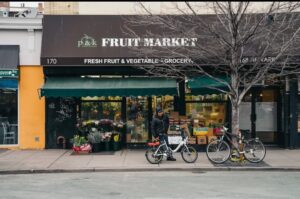 Though they like to tease me, they truly truly take care of me with so many niceties like packing my bags making sure I'm not overloaded on one side to coming out from behind the counter to literally taking everything out of my cart to load a freakin' watermelon I was insistent upon buying to put on the bottom of what I had already bought elsewhere! And the place was busy, the line was getting long. Ooooo thank you Peter for that one.
What small businesses and solopreneurs do you love? Let them know it, BIG TIME!
Holla back, I welcome your comments and thoughts…
**************
Check out my guided meditation videos to help you reduce stress and anxiety. They are also offered in audio form with a choice of 5-6 minutes and a longer deeper session for about 30 minutes. You can also order custom guided meditation audio tailor made to fit your needs. And keep in mind my StressBusters Guided Meditation sessions to book in-person or virtual.
For more ideas, tips and How-To's on getting your Zen Zone Mojo happnin' and to reduce stress, anxiety, anger, depression as well as increasing Mindfulness and Awareness, there are an array of stress and anxiety relieving products and services as well as events to check out on my site.
Thank you for being here, won't you share this blog with a friend, family member and/or colleague?