My Interview on Confidence Through Cabaret
Confidence Through Cabaret The Podcast – Living Your Truth and Claiming Your Power with Jacquie Bird In this Podcast, Heather Jean is joined by a very special guest… Jacquie Bird!  Jacquie is a dance teacher and choreographer, an author, and a Spiritual Wellness coach for getting in tune with your vibe and flow to be balanced and grounded.  Our conversation is about living your truth, living your practices 'off the mat' and remembering the importance of 'play'. Jacquie shares with us her work, as well as her stories of her journey and remembering to laugh with yourself – through life's moments that give us the tools to be who we truly are!
I had a great time with Heather Jean, the Host and Creator of the podcast Confidence Through Cabaret! We had never met and ended up laughing together like we had known each other for a very long time.
We talked about Empowerment, Claiming Your Power and stepping into Your Authentic Truth–some of my FAVORITE topics and one of the reasons I was really so happy to be a part of her platform! Inspiring and empowering as much as possible, that's the kind of thing I do and want to be associated with as much as possible.
you can also find it wherever you listen to your podcasts.
***Come back and give some feedback and questions here and tell lots of folks!
Enjoy!!
And Remember to Roll With Peace, In Mind!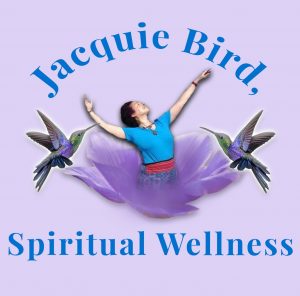 Your Wellness Guide